PLEASE CONSIDER PURCHASING THESE FINE PRODUCTS, ALL CURRENTLY AVAILABLE. WHEN YOU BUY THE OLDER STUFF, IT GIVES US INCENTIVE TO MAKE NEW STUFF:
New album "Irrelevant" is a work in progress and what has progressed so far can be scored here:  http://musicfromthefilm.net/?page_id=1335
and….
MUSIC FROM THE FILM – "Say Hello To The Boy Who's Returned From Paradise", Now available thru Zeromoon: http://zeromoon.com/releases/music-from-the-film-say-hello-to-the-boy-whos-returned-from-paradise-zero148/
and….
VI KOMMER TIL Å FÅ DEG:  DOWNLOAD FREE HERE: http://zeromoon.com/releases/music-from-the-film-vi-kommer-til-a-fa-deg-zero134/
KFJC review of VI KOMMER TIL Å FÅ DEG: Maryland twosome, Gary Young and Arthur Harrison have been creating improvisational noise together for more then two decades under many different monikers. On 'VI Kommer Til A Fa Deg' which is Norwegian for 'We're Going to Get You' they have added Kevin Buckholdt to the mix. This is their fifth full length album as the group Music from the Film on their first release on the Zeromoon label. These 22 tracks are not easy to describe, and that is a good thing as each track twists and turns with a cacophony of improvisational noise that is uniquely original never knowing what you may hear next. These guys work in the land of bizarro and give a new definition to the term experimental improvisation. They list 32 instruments on the liner notes ranging from Pseudorandom noise sequencers, Theremin, Dulcimer, sound wands, to a series of toy noise makers and something called a Sarah Palin. This is a rather dark album which incorporates every imaginable tone, pitch and beat that you could only hear in your hellish dreams. The voices throughout are mostly poetic nonsense, much of it unintelligible yet you find your ears yearning for more of this delusional prose. These guys are incredibly unpredictable and very original with their approach to chaotic sounds. http://spidey.kfjc.org/?p=8842
and….
——————————————————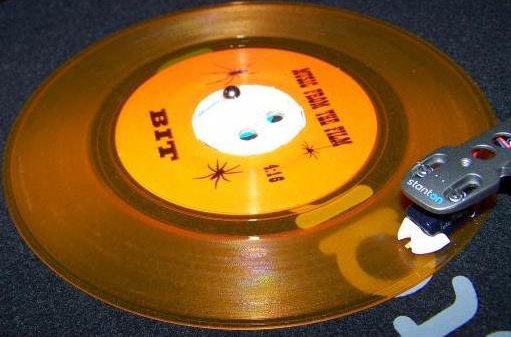 BIT b/w CRUSHFACE 7 Inch: BUY HERE: send email to garyiep@aol.com for purchase details.
KZSU Review of BIT / CRUSHFACE Seven Inch Your Imaginary Friend Reviewed 2010-04-25 THIS IS WHAT I LIVE FOR AT KZSU!! Fucked up amalgam of drums, train whistle, rain stick, maracas, bass, glockenspiel, casio, turntables, kitchen sink. Artist sends us a 45rpm 7" each side containing the soundtrack to my brain on a an average day. And to top it off he suggests playing it at 33 rpm "for an extended 'swimmier' mix". Then on closer inspection he's included a little 45 cut out with three holes punched into it so that if you choose to use it instead of a standard 45 spindle adaptor the record plays off center and even more fucked up than it "normally" does. This is the shit (Byrd says if you record the record using each of the three holes and play them back to together you will hear the voice of satan and/or get messages to overthrow the govt).
Bit: sick banjo with bursts of synth, tones and occasional voice, mid paced weirdness
CRUSHFACE: Clangier fucked upedness. Play me.
————————————————
and….
How The West Was Once:  BUY HERE: send email to garyiep@aol.com for purchase details.
Review of How The West Was Once by WUSB, Stony Brook, NY:  Music From The Film is possibly the strangest, weirdest, most irrational brilliance I've heard in quite some time. How The West Was Once is full of cans opening, creepy humming, guitars, banjos, chimes, maybe vacuums, children's toys, synths, and who knows what else, all layered on top of percussion which seems to be the only binding element throughout the record. Gary Young and Arthur Harrison are the two masterminds behind the project and apparently Young is a living legend of the cassette noise realm. There is No Help is a long 10 minutes with everything I just mentioned, but with slimy down your neck vocals and really twisted percussion that drags you into this frightening dark trance. While you're being absorbed by the insane percussion, dark synths, and weird distortions; make sure you hang onto the lyrics. Especially towards the end of the track, they're kind of brilliant and hilarious, but mostly creepy in a sex-offender kind of way. You might have nightmares after jamming this, but it'll probably feel like some acid induced trip with Pee Wee Herman with an army of nude dwarfs chasing you in slow motion. Maybe I'm the only one with Pee Wee Herman dwarf dreams. Posted by Krissy Rubbles at 7:55 PM ….http://newjamzwusb.blogspot.com/2011/01/music-from-film-there-is-no-help.html
———————————————–
and….
World War Tree:  BUY HERE:  send email to garyiep@aol.com for purchase details.
Weirdo Music review of World War Tree: http://www.weirdomusic.com/reviews/musicfromthefilm/playfullyabrasive.htm  Music from the Film inhabit the same ghoulish, cartoonish universe as The Melvins, just down the road from Mike Patton. They explore a similar throbbing low-end theory, interuppted by demonoid squeaky toy vocals, and any other noise-maker they could dig out of the toy chest; including aerosol cans, halloween door knockers, glockenspiels, and a slew of stringed and homemade electronic instruments. Music from the Film is primarily the project of Gary Young and Arthur Harrison, and whomever else happens to be around. They gather around a tape recorder in the center of the room, like a primeval campfire, as they ritualistically exorcise their cacophanous demons. No slick production tricks here, these are raw sounds straight to tape, and you are a fly on the wall, watching. These ramshackle, chaotic jams will not be to everybody's liking, but fans of improvised music and stoned-out extrapolation will find many technicolor morsels on which to feed their ears. Music from the Film are refreshingly free; free of commercial constraints or label pressures, free of genre limitations, free even of the consideration of what is "music", revelling in pure sonics, wallowing in the moment of creation. They are remarkably sensitive players, not drowning the sound in senseless ego notes. The stringed instruments are tuneful, not just amateurish bashing, and the recording sounds good, if homemade. The homespun aesthetic is conducive to this style of music. Individual tracks don't particularly stand out; rather, the two albums come off as a continual pyrotechnic magma flow. Other reviewers make this band out to be a band of whimsical ADD gnomes. There is a sense of restlessness, exploration, and play, their sound reminds me more of the sarcastic misanthropy of The Melvins or post-punk legends The Fall. These records are challenging and engaging, and while i will not be playing them as i go to sleep, i will stop by and visit their strange world again.
—————————————–
and….
Playfully Abrasive:   BUY HERE: send email to garyiep@aol.com for purchase details.
HEATHEN HARVEST review of Playfully Abrasive: http://www.heathenharvest.com/article.php?story=20080111205431626 .. ..Gary Young has seemingly been around for a fair amount of time on the noise scene, releasing a variety of material on cassette-only under the name of Pastor Irrelevant as a member of such outfits as New Killers on the Block, Drooling Zoomers, Bone Bunny and Entfred. Music From The film represents a bit of a departure for Young, as this is him performing abuse on banjo, glockenspiel and chimes along with various different people who happened to be in the same room with him at different times, and also caught in the act of abusing various other instruments. One of those other people is occasional Young co-conspirator Arthur Harrison, maker of theremins & cacophonators, the latter instrument described on the MFTF MySpace profile as twelve oscillators arguing between themselves. It would also be true to say that ALL the instruments used on here spent the entire time arguing between themselves; in fact if the tape recorder had suddenly developed a case of artificial intelligence during these sessions it would probably have had an instant and possibly fatal aneurysm… ..The ..'music'.. on here is both playfully abrasive and playfully anarchic; anarchic in the sense that it's like a group of children with ADHD being given a roomful of instruments to play with. An appropriate metaphor as there is also an air of childish innocence about this; people playing for the sheer joy of making noise and with no thought of a concept behind the music. Instruments of course is a fairly loose term when it comes to some of the items used – as well as traditional fare like guitar, maracas, bass, flute, ukulele and drums there's also less conventional sound sources such as Halloween door hangers, Dust Off Spray, bookends, train whistles and sound wands from children's interactive story books to name a few. There's no pretence of compositional niceties here; the tape recorder in the centre of the room was switched on, people picked up whatever was to hand and just started playing something. Anarchic and as anti-intellectual as that is, however, there still remains a sense of accidental order and logic to it; in fact some of the tracks stray dangerously close to the border of the normal classification of music just by sheer accident… ..I have the distinct feeling that Gary Young couldn't care less whether I loved or hated the music – he, along with his friends, must just have had an absolute blast putting all this together. And guess what? That joy seems to have found its way onto tape along with the music and positively seeps through to the speakers and on to the listener. If you want some infectious cacophonic joy that'll leave you grinning and dribbling inanely (inspiring your mates to give you a wide berth) then I suggest you seek this one out
———————————————————————
ALSO AVAILABLE FOR DOWNLOAD ($5):  Say Hello To The Boy Who's Returned From Paradise:  DOWNLOAD HERE: http://musicfromthefilm.bandcamp.com/album/mftf-say-hello-to-the-boy-whos-returned-from-paradise  26 track album of excerpts from our "practice" sessions
——————————————————————-
We also have an exclusive track, "Animal Friends" on the District Of Noise Vol. 4 LP (Vinyl):  BUY HERE:  http://dc-soniccircuits.org/shop/  or send email to garyiep@aol.com for purchase details.
———————————————————-
And we also have two exclusive tracks, "Sea Dog" and "Just An Orange" on the Electro-Music 2011 Sampler that came out in conjunction with the Electro-Music Festival in Huguenot, NY September 2011: BUY HERE:  http://kunaki.com/msales.asp?PublisherId=111990 
———————————————————–
We have T-Shirts now.  Available in S, M, L, XL and XXL.  $10ppd.  Enquire within.
We regret to inform you that our good friend Matt Grace has passed away.  He was the source to purchase all of our items.  http://www.headburnrecords.com/   if you are interested in any of our offerings, for now send email to garyiep@aol.com for purchase details.
http://www.zeromoon.com   for Vi Kommer Til A Fa Deg via digital download